UPN U-Channels

Steel grade: S235/275; S355
Length: L-10000mm.; L-12000mm.; L-15000mm.; L-18000mm.
UPN metal U-Channels are designed with tapered flanges, average height from 80 to 400mm.
Steel grades S235, S355, according to European standards EN10025.
Our company offers metal UPN U-Channels made of black steel that meet all European standards and GOST(ГОСТ) requirements.
The steel U-Channels are continuous U-shaped metal channels that are widely used in metal rolling. Black steel U-Channels adds rigidity and stability to steel structures, and they significantly increase the load bearing capacity. Metal U-channels are made of carbon steel by means of hot rolling. Despite their light weight, steel U-channels are extremely resistant and have the capacity to withstand heavy loads, that is why they are being widely used in various types of metal construction and steel industry
Steel U-Channels are used in:
steel construction of bridges and steel columns;
steel construction of metal structures;
steel framing;
hanging ceilings;
finishing work.
They are used to build interfloor overlaps and for improvement of bearing structures. Steel U-Channels significantly reduce the weight of black steel structure. Use of high-quality steel channels also greatly increases the lifetime of buildings and black metal structures, making them safer and more durable. The light weight of metal channels significantly facilitates their transportation and installation on site. Thanks to their steel structural properties, black metal U-Channels are capable to withstand vertical loads. In black metal constructions, it is of extreme importance to only use high quality and approved steel materials that have all the necessary steel certificates .
IDL GROUP Ltd offers only highest quality black metal U-Channels made of ferrous steel that meet all European standards and GOST(ГОСТ) requirements. Fast delivery to Latvia, Baltic countries and Europe.
For any inquiries, please call us: +371 26 611 151; +371 28 774 774 or send an email to: info@metals.lv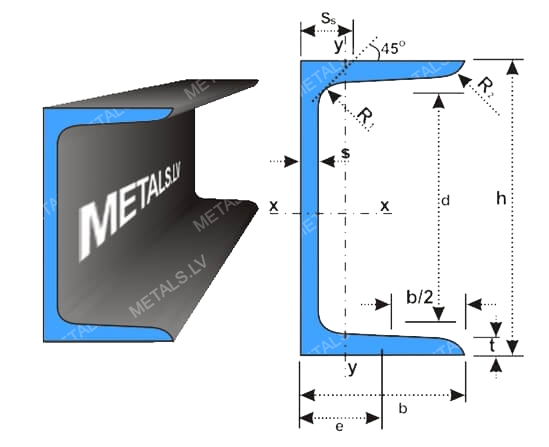 UPN U-Channels
Sizes mm
Surface
UPN / U-channels
Height h
Width b
Thickness s
Thickness t
Weight kg/m
m2/m
UPN 50
50
38
5
7
5,59
0,232
UPN 65
65
42
5,5
7,5
7,09
0,273
UPN 80
80
45
6
8
8,64
0,312
UPN 100
100
50
6
8,5
10,6
0,372
UPN 120
120
55
7
9
13,4
0,434
UPN 140
140
60
7
10
16,0
0,489
UPN 160
160
65
7,5
10,5
18,8
0,546
UPN 180
180
70
8
11
22,0
0,611
UPN 200
200
75
8,5
11,5
25,3
0,661
UPN 220
220
80
9
12,5
29,4
0,718
UPN 240
240
85
9,5
13
33,2
0,775
UPN 260
260
90
10
14
37,9
0,834
UPN 280
280
95
10
15
41,8
0,890
UPN 300
300
100
10
16
46,2
0,950
UPN 320
320
100
14
17,5
59,5
0,982
UPN 350
350
100
14
16
60,6
1,050
UPN 380
380
102
13,5
16
63,1
1,110
UPN 400
400
110
14
18
71,8
1,180
Order now UPN U-Channels