Steel U Profile П

Steel grade: Ст3
Length: L-6000mm.; L-12000mm.
Steel U-Channel П is a continuous U-shaped metal channel that is widely used in metal rolling. Steel U-Channel adds rigidity and stability to building structures and significantly increases their load bearing capacity. Metal U-Channels are made of carbon steel by means of hot rolling methods. Despite their light weight, the black steel U-Channels have a very high durability They are capable to withstand heavy loads and are being widely used in various types of steel construction and metal industry.
Steel U-Channels are used in:
metal construction of bridges and steel columns;
steel constructions of metal structures;
metal framin;
hanging ceilings;
finishing work.
Steel U-Channels also are used in construction of inter-floor covering and to strengthen load-carrying constructions. Using black metal U-Channels significantly reduces the weight of the construction. High quality metal U-channels greatly increase the lifetime of buildings and steel structures, making them safer and more durable. The small weight of steel channels significantly facilitates their transportation and installation on site. Structural steel properties of metal channels make it possible to withstand vertical loads. In black steel constructions, it is very important to use only high-quality approved steel materials that have all the necessary metal certificates.
IDL GROUP Ltd offers only highest quality steel U-Channels made of ferrous steel (black metal) that meet all European standards and GOST(ГОСТ) requirements. Fast delivery to Latvia, Baltic countries and Europe. For any inquiries, please call us: +371 26 611 151; +371 28 774 774 or send an email to: info@metals.lv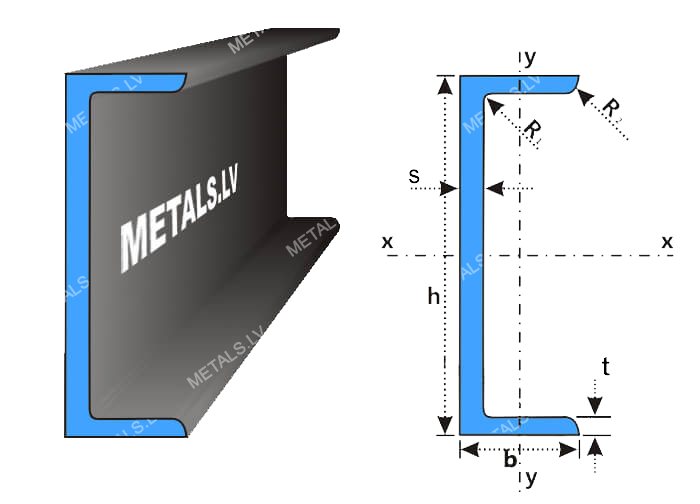 Steel U Profile П
Sizes mm
U-Channels / U-Channel
Height h
Width b
Thickness s
Thickness t
Weight kg/m
U-Channel 6.5П
65
36
4.4
7.2
5.9
U-Channel 8П
80
40
4.5
7.4
7.05
U-Channel 10П
100
46
4.5
7
8.59
U-Channel 12П
120
52
4.8
7.8
10.4
U-Channel 14П
140
58
4.9
8.1
12.3
U-Channel 16П
160
64
5
8.4
14.2
U-Channel 18П
180
70
5.1
8.7
16.3
U-Channel 20П
200
76
5.2
9
18.4
U-Channel 22П
220
82
5.2
9.5
21
U-Channel 24П
240
90
5.6
10
24
U-Channel 27П
270
95
6
10.5
27.7
U-Channel 30П
330
110
6.5
11
31.8
U-Channel 33П
330
105
7
11.7
36.5
U-Channel 36П
360
110
7.5
12.6
41.9
U-Channel 40П
400
115
8
13.5
48.3
Order now Steel U Profile П