Cold rolled plate

Steel grade: DC01
What is a cold-rolled sheet? This is a metal product classified as flat products. Low carbon steel is used to make this product. Cold-rolled sheets are mainly used as workpieces for further production of other types of rolled metal products.
Large variety of cold-rolled steel sheets makes this material multi-purpose and able to cover surfaces of different forms, change easily its shape and hold its relief.
in motor vehicle industry for production of various parts;
in electric power industry for production of cases, electrical components, instruments and other elements;
in building industry as surfacing and roofing materials during erection of fabricated steel structures;
shipbuilding and carriage building industry as a material for outside cases;
for production of pipes, vent shafts, air ducts and foil paper.
The most popular size of 1.5 mm cold-rolled steel sheet: 1,250х2,500 mm. The products are manufactured either in packs or coils. Moreover, the minimal width is 1,000 mm and the length varies from 2,000 to 2,500 mm.
Kompānija SIA "IDL GROUP" piedāvā augstas kvalitātes auksti velmētas loksnes ar ātro piegādi visa Latvijā, jautājumu gadījuma lūdzu zvaniet +371 26611151 un rakstiet mums: info@metals.lv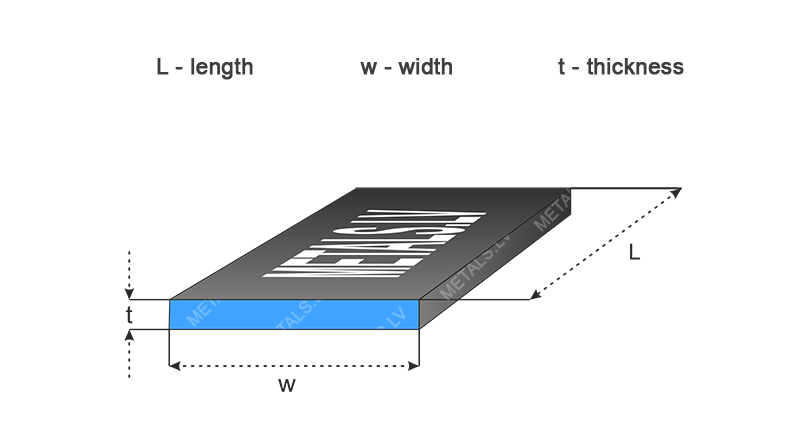 Cold Rolled Plate

| | Sizes mm |
| --- | --- |
| Steel Sheet sizes: thickness, width, height, sheet brand | Weight kg/pcs |
| Steel Sheet 0.5*1250*2500 DC01 | 12.5 |
| Steel Sheet 0.8*1250*2500 DC01 | 20 |
| Steel Sheet 1.0*1250*2500 DC01 | 25 |
| Steel Sheet 1.2*1250*2500 DC01 | 30 |
| Steel Sheet 1.5*1250*2500 DC01 | 37.5 |
| Steel Sheet 2.0*1250*2500 DC01 | 50 |
| Steel Sheet 2.5*1250*2500 DC01 | 62.5 |
| Steel Sheet 3.0*1250*2500 DC01 | 75 |