Cold rolled plate

Steel grade: DC01
What is a cold-rolled sheet? This is a metal product that refers to sheet metal. To create it, low-carbon steel is used. Cold forming sheets are mainly used in the form of blanks for the manufacture of other types of metal.
A wide range of cold rolled steel sheets makes it a versatile material that can cover surfaces of various shapes, easily deform, and maintain relief.
Cold rolled sheets are actively used:
In the automotive industry, for the production of a variety of parts;
In the energy industry, to create steel cases, electrical components, devices and other steel elements;
In steel construction, it is used as facing and roofing materials, in the construction of prefabricated steel structures;
In shipbuilding and car building steel cold rolled plates is used as material for external hulls;
For the production of steel pipes, ventilation shafts and foil.
The most popular size of cold-rolled steel sheet is 1.5 mm thick and we will cut 1250x2500 mm. Sheets are produced in packs or rolls. Moreover, the minimum width of steel plates is 1000 mm, and the length varies from 2000 to 2500 mm.
The company IDL Group offers high-quality cold-rolled sheets with fast delivery throughout Latvia and Europe, so if you have any questions, please call us +371 26 611 151; +371 28 774 774 or send us e-mail: info@metals.lv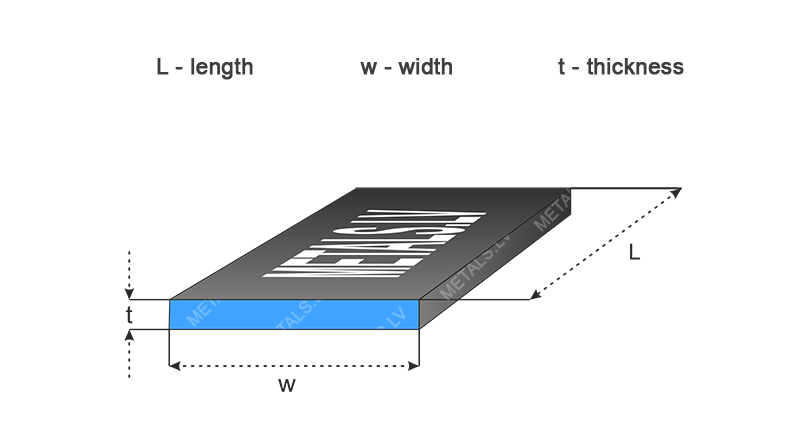 Cold Rolled Plate
Sizes mm
Steel Sheet sizes: thickness, width, height, sheet brand
Weight kg/pcs
Surface m2/pcs
Steel Sheet 0.5*1250*2500 DC01
12.5
6
Steel Sheet 0.8*1250*2500 DC01
20
6
Steel Sheet 1.0*1250*2500 DC01
25
6
Steel Sheet 1.2*1250*2500 DC01
30
6
Steel Sheet 1.5*1250*2500 DC01
37.5
6
Steel Sheet 2.0*1250*2500 DC01
50
6
Steel Sheet 2.5*1250*2500 DC01
62.5
6
Steel Sheet 3.0*1250*2500 DC01
75
6