Galvanized sheets

Steel grade: Z275
Galvanized sheet is a very popular building material, which is characterized by high quality, reliability and durability. Steel galvanized sheets is widely used in industrial and civil engineering due to its two main qualities - corrosion resistance and beautiful appearance. Galvanized steel, in particular sheets, are very often used in the manufacture of steel constructions. It is important to note, that galvanized sheet becomes the basis of various types of rolled metal. Stripes, squares, circles are cut from galvanized sheets. The material for the manufacture of galvanized sheet is carbon cold rolled steel.
The price of galvanized sheets depends on a number of parameters:
Width and length of galvanized plates. The larger the area of the galvanized sheet, the more expensive it is.
The thickness of the galvanized sheet affects the price. A denser galvanized sheet is more expensive.
The number of products in the order. It is more profitable to buy large batches of galvanized sheets.
We do not overestimate the price of galvanized steel, so everyone can buy steel goods. Our company offers only those sheets that have been made by European quality standards.
Are you interested in the exact price of steel galvanized plates? Want to order galvanized sheets? Contact our professionals by phone +371 26 611 151; +371 28 774 774 or email: info@metals.lv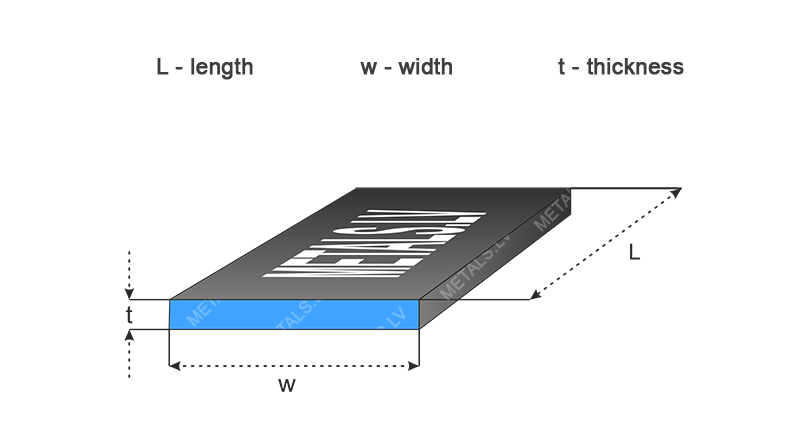 Sheets galvanized
Sizes mm
Steel Sheet sizes: thickness, width, height, sheet brand
Weight kg/pcs
Surface m2/pcs
Sheet Galvanized 0.5*1250*2500 DX51 Z275MAC
12.5
6
Sheet Galvanized 0.5*1500*3000 DX51 Z275MAC
18
9
Sheet Galvanized 0.7*1250*2500 DX51 Z275MAC
17.5
6
Sheet Galvanized 0.7*1500*3000 DX51 Z275MAC
25.2
9
Sheet Galvanized 0.8*1250*2500 DX51 Z275MAC
20
6
Sheet Galvanized 0.8*1500*3000 DX51 Z275MAC
28.8
9
Sheet Galvanized 1.0*1250*2500 DX51 Z275MAC
25
6
Sheet Galvanized 1.0*1500*3000 DX51 Z275MAC
36
9
Sheet Galvanized 1.2*1250*2500 DX51 Z275MAC
30
6
Sheet Galvanized 1.2*1500*3000 DX51 Z275MAC
43.2
9
Sheet Galvanized 1.5*1250*2500 DX51 Z275MAC
37.5
6
Sheet Galvanized 1.5*1500*3000 DX51 Z275MAC
54
9
Sheet Galvanized 2.0*1250*2500 DX51 Z275MAC
50
6
Sheet Galvanized 2.0*1500*3000 DX51 Z275MAC
72
9
Sheet Galvanized 2.5*1250*2500 DX51 Z275MAC
62.5
6
Sheet Galvanized 2.5*1500*3000 DX51 Z275MAC
90
9
Sheet Galvanized 3.0*1250*2500 DX51 Z275MAC
75
6
Sheet Galvanized 3.0*1500*3000 DX51 Z275MAC
108
9