UPE U-Channels
Steel grade: S235; S355
Length: L-10000mm.; L-12000mm.; L-15000mm.; L-18000mm.
UPE U-Channels are steel channels with parallel flanges, average height from 80 to 400mm.
UPE metal U-Channels are manufactured in compliance by European standards.
The durability of buildings and steel constructions as well as their operational lifetime depend on high quality steel materials, so it is of extreme importance to use certified steel with a high strength coefficient. Various types of black steel U-Channels are widely employed in production of metal structures, especially the metal UPE U-Channels, which have many positive characteristics, such as high wear resistance and high durability coefficient. Compared to equivalent products, steel UPE U-Channels have thinner walls, and nonetheless, their load-bearing capacity is comparable to that of steel Double T-Beams.
The range of use of black metal U-Channels is very wide: from industrial black steel constructions to car industry; they also are employed to strengthen metal structures.
Fast delivery to Latvia, Baltic countries and Europe. To find the best solutions for your business, please contact our specialists by phone + 371 26 611 151; +371 28 774 774 or by sending as an e-mail info@metals.lv.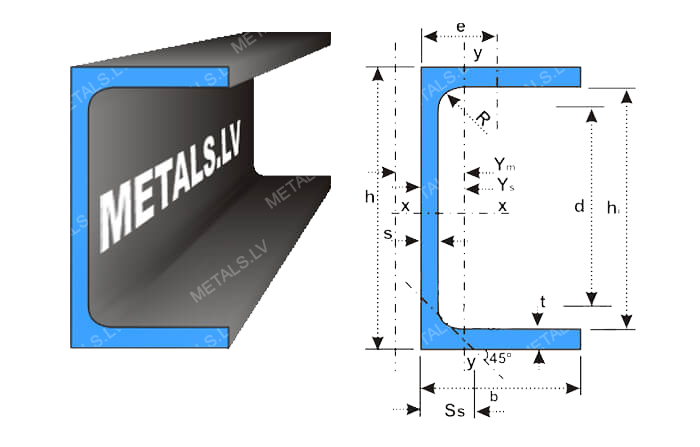 UPE U-Channels
Sizes mm
Surface
UPE / U-Channels
Height h
Width b
Thickness s
Thickness t
Weight kg/m
m2/m
UPE 80
80
50
4.0
6.0
7.90
0,343
UPE 100
100
55
4.5
7.5
9.82
0,402
UPE 120
120
60
5.0
8.0
12.1
0,460
UPE 140
140
65
5.0
9.0
14.5
0,520
UPE 160
160
70
5.5
9.5
17.0
0,579
UPE 180
180
75
5.5
10.5
19.7
0,639
UPE 200
200
80
6.0
11.0
22.8
0,697
UPE 220
220
85
6.5
12.0
26.6
0,756
UPE 240
240
90
7.0
12.5
30.2
0,813
UPE 270
270
95
7.5
12.5
35.2
0,892
UPE 300
300
100
9.5
15.0
44.4
0,968
UPE 330
330
105
11.0
16.0
53.2
1,043
UPE 360
360
110
12.0
17.0
61.2
1,121
UPE 400
400
115
13.5
18.0
72.2
1,218
Order now UPE U-Channels
Send form