HEB Steel Beams

Steel grade: S235; S275; S355
Length: L-6m.; L-10m.; L-11m.; L-12m.; L-13m.; L-14m.; L-15m.; L-18m.; L-24m.
Metal beams are employed to increase the rigidity, stability and durability of metal structures. Black steel beams can withstand heavy loads and are widely used in steel construction of commercial and warehousing facilities, as well as in building skyscrapers, sports stadiums and large warehouses. Metal beams are suitable for any metal construction project and for any circumstances. The structural strength of steel beams depends on such factors as: cross-sectional dimensions and shape, size and length, material and joint methods.
HEB Metal Beams are the almost the largest beams. They are widely used in bigger black metal constructions where it is necessary to withstand heavy loads. The base length equals the beam height, and the base thickness exceeds the thickness of HEA and IPE steel beams. Our company offers metal beams of non-standard sizes from L=6000mm to L=24100mm and we can cut and sell you any size of beams that u need, but not less than L=6000mm.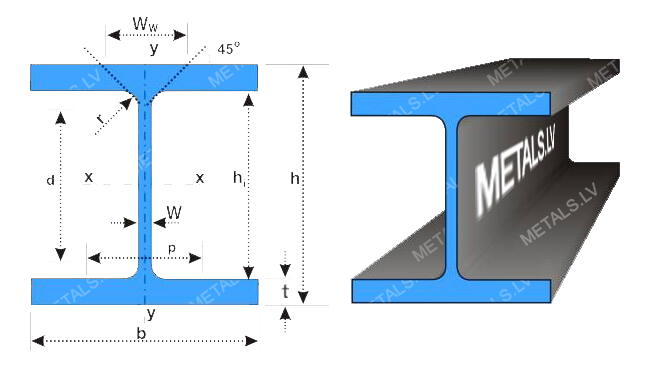 HEB Steel Beams
Sizes mm
Surface
HEB beams
Height h
Width b
Thickness w
Thickness t
Radius r
Height h1
Height d
Weight kg/m
m2/m
HEB 100
100
100
6
10
12
80
56
20,4
0,567
HEB 120
120
120
6.5
11
12
98
74
26,7
0,686
HEB 140
140
140
7
12
12
116
92
33,7
0,805
HEB 160
160
160
8
13
15
134
104
42,6
0,918
HEB 180
180
180
8.5
14
15
152
122
51,2
1,037
HEB 200
200
200
9
15
18
170
134
61,3
1,151
HEB 220
220
220
9.5
16
18
188
152
71,5
1,270
HEB 240
240
240
10
17
21
206
164
83,2
1,384
HEB 260
260
260
10
17.5
24
225
177
93
1,499
HEB 280
280
280
10.5
18
24
244
196
103
1,618
HEB 300
300
300
11
19
27
262
208
117
1,732
HEB 320
320
300
11.5
20.5
27
279
225
127
1,771
HEB 340
340
300
12
21.5
27
297
243
134
1,810
HEB 360
360
300
12.5
22.5
27
315
261
142
1,849
HEB 400
400
300
13.5
24
27
352
298
155
1,927
HEB 450
450
300
14
26
27
398
344
171
2,026
HEB 500
500
300
14.5
28
27
444
390
187
2,125
HEB 550
550
300
15
29
27
492
438
199
2,224
HEB 600
600
300
15.5
30
27
540
486
212
2,323
HEB 650
650
300
16
31
27
588
534
225
2,422
HEB 700
700
300
17
32
27
636
582
241
2,520
HEB 800
800
300
17.5
33
30
734
674
262
2,713
HEB 900
900
300
18.5
35
30
830
770
291
2,911
HEB 1000
1000
300
19
36
30
928
868
314
3,110
Order now HEB Steel Beams