Steel Beams (IPE)
Steel beams are one of the most important construction tools available nowadays. Depending on the metal product type and the wide usage spectrum, beams are used in construction of residential and commercial buildings, and various constructions. Double steel beams are one of the most important elements of the load-bearing construction, which are mostly used for bending. Cross-section of steel beams is one of the most advantageous types of cross-section, which allows uniform load distribution.
IPE steel beam is the most demanded beam used in small objects. Length of base is two times smaller than the height of beam and the thickness of base is intended for comparatively small loads. Our company offers beams with non-standard dimensions from L=5800 up to L=15100.
To learn more about the best solutions for your construction requirements, contact our specialists by calling 26 611 151 or by leaving us a message in e-mail: info@metals.lv.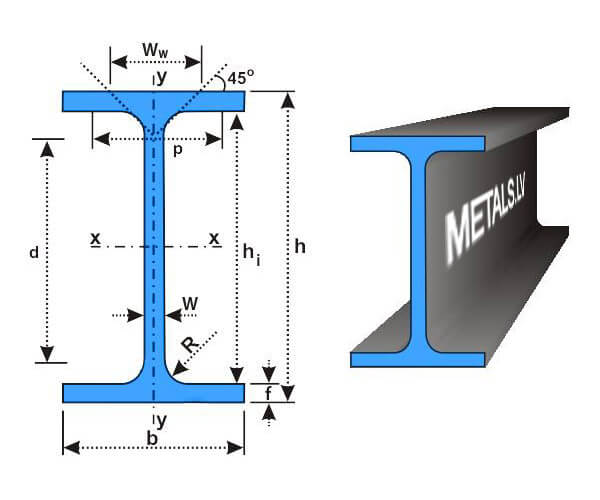 | IPE | Height h | Width b | Thickness, w | Thickness, f | Weight kg/m |
| --- | --- | --- | --- | --- | --- |
| 80 | 80 | 46 | 3.8 | 5.2 | 6,12 |
| 100 | 100 | 55 | 4.1 | 5.7 | 8,27 |
| 120 | 120 | 64 | 4.4 | 6.3 | 10,7 |
| 140 | 140 | 73 | 4.7 | 6.9 | 13,2 |
| 160 | 160 | 82 | 5 | 7.4 | 16,2 |
| 180 | 180 | 91 | 5.3 | 8 | 19,3 |
| 200 | 200 | 100 | 5.6 | 8.5 | 22,9 |
| 220 | 220 | 110 | 5.9 | 9.2 | 26,8 |
| 240 | 240 | 120 | 6.2 | 9.8 | 31,4 |
| 270 | 270 | 135 | 6.6 | 10.2 | 36,9 |
| 300 | 300 | 150 | 7.1 | 10.7 | 43,1 |
| 330 | 330 | 160 | 7.5 | 11.5 | 50,2 |
| 360 | 360 | 170 | 8 | 12.7 | 58,3 |
| 400 | 400 | 180 | 8.6 | 13.5 | 67,7 |
Order now Steel Beams (IPE)